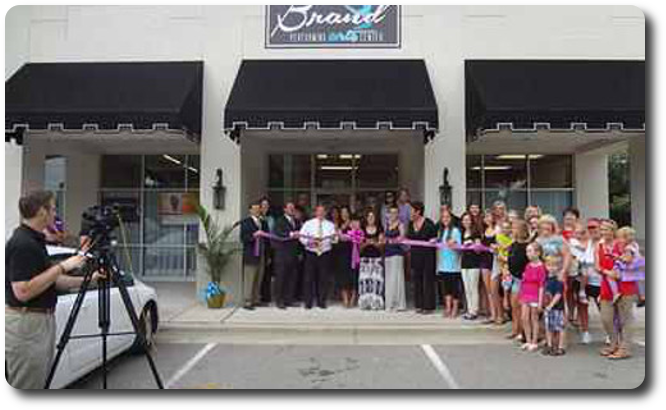 Growing up in a family full of professional dancers and spending most of my days in a dance studio with my mother and grandmother, I knew from a very young age that one day I would be the owner of my own dance studio. After coming to Wilson, I discovered supportive families that gave me the courage to take a leap of faith, follow my vision, and open Brand Performing Arts Center.
Brand Performing Arts Center, lovingly know as B-PAC, was established in 2013. In one short year, the Competitive Dance Company was created and went to several Regional Competitions and won numerous top place awards. Also, during that first year, B-PAC implemented service activities where the dancers learned the importance of giving back by participating in several community projects. The Spring Performance was the highlight of our first year. All the dancers and tumblers took pride in what they had accomplished in one short year and left it all on the stage. What a fantastic moment!
Since 2013, we have moved from a small store front studio to large campus that houses over 12,000 square feet of instructional space. B-PAC has expanded to include a free-standing competition grade gymnasium that serves as the practice facility for competitive and non-competitive cheer, tumbling, and gymnastics. Most recently, we have expanded services to include an after-school program to meet the needs of our school aged children. Our competitive company has also grown to over 18 groups that compete at least 4 times a year.
Most importantly, our company dancers have establishing a yearly fundraising event, BPAC Gives Back,  formerly known as Dancing for a Cause. Our dancers have collectively raised over $88,000 in just a few short years. 100% of all money raised has gone to support cancer patients in our area.
Brand Performing Arts Center would not be what it is today without the support of my family, instructors, students, students' families, many volunteers, and the Wilson Community. We look to bringing innovative dance education to our students and to serving the community of Wilson for many years to come.